World Series of Poker 2011: calendario 42° Edizione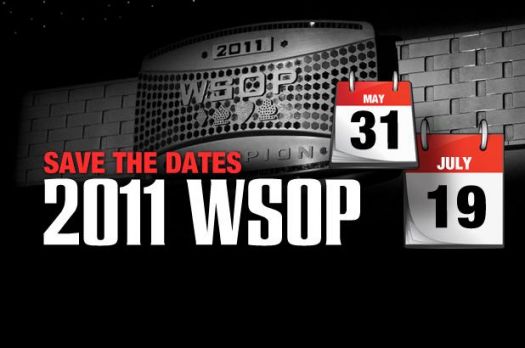 Mancano ormai 10 giorni all'inizio ufficiale delle World Series of Poker 2011 giunte alle 42° edizione che prenderanno il via il 31 maggio prossimo al Casino Rio di Las Vegas.
Quest'anno le WSOP hanno in programma ben 58 eventi che si susseguiranno dal 31 maggio al 19 luglio.

A differenza delle precedenti manifestazioni quest'anno si giocheranno dieci livelli al giorno per ogni torneo dopo di che la competizione sarà interrotta per riprendere il giorno successivo.
Il Main Event che porterà alla proclamazione dei November Nine, ossia i 9 giocatori che si contenderanno il titolo nella finale di novembre, prenderà il via il 7 di luglio e terminerà il 19.
In questi 58 eventi con ben 58 braccialetti del WSOP 2011 in palio ci saranno tornei in ogni variante di poker e con buy in per tutte le tasche partendo da 1.000$ per arrivare a 50.000$.
Il campione in carica che difenderà il titolo è il giovane canadese Jonathan Duhamel ma ad avere in mano il record di braccialetti vinti alle WSOP è il leggendario giocatore statunitense Phil Hellmuth con ben 11 braccialetti vinti nella sua carriera.
Phil Ivey ed Erik Seidel entrambi con 8 braccialetti vinti in totale fino ad oggi sono i giocatori più accreditati a strappare ad Hellmuth il primato e stabilire ujn nuovo record.
Per quanto riguarda i giocatori italiani si spera che riuscirà a portare a casa almeno un braccialetto qualcuno tra Alessio Isaia, Dario Minieri, Dario Alioto, Luca Pagano, Salvatore Bonavena e Max Pescatori.
Questo è il calendario completo delle World Series of Poker 2011 con i 58 eventi in programma:
Martedì 31 maggio ore 12:00:
– Evento # 1: I dipendenti del Casinò No-Limit Hold'em $ 500
– Evento # 2: Heads Up No-Limit Hold'em Championship (256 max) 25.000 $
Mercoledì 1 giugno 12:00
– Evento # 3: Omaha Hi-Low Split-8 or Better 1.500 dollari
Giovedì 2 giugno 12:00
– Evento # 4: No-Limit Hold'em $ 5.000
– Evento # 5: Seven Card Stud 1.500 dollari
Venerdì 3 giugno:
-Evento # 6: Limit Hold'em da 1.500 $
– Evento # 7: Pot-Limit Hold'em Championship 10.000 $
Sabato 4 giugno:
– Evento # 8: No-Limit Hold'em $ 1.000
– Evento # 9: 2-7 Draw Lowball (No-Limit) $ 1.500
Lunedì 6 giugno:
– Evento # 10: no-limit hold'em / Six Handed 1.500 dollari
– Evento # 11: Omaha Hi-Low Split-8 or Better Campionato 10.000 $
Martedì 7 Giugno 12:00
– Evento # 12: Triple Chance No-Limit Hold'em $ 1.500
mercoledì 8 giugno
– Evento # 13: Hold'em No-Limit Shootout (2.000 Max) $ 1.500
– Evento # 14: Limit Hold'em da 3.000 $
Giovedì 9 giugno: 12:00 Evento 3-Day
– Evento # 15: Pot Limit Hold'em $ 1.500
– Evento # 16: 2-7 Draw Lowball Championship (No-Limit) 10.000 $
Venerdì 10 Giugno 12:00 Evento 3-Day
– Evento # 17: HORSE 1.500 dollari
Sabato 11 Giugno 12:00 Evento 3-Day
– Evento # 18: No-Limit Hold'em $ 1.500
– Evento # 19: Limit Hold'em / Six Handed 2.500 dollari
Domenica 12 Giugno 12:00 Evento 3-Day
– Evento # 20: No-Limit Hold'em $ 1.000
– Evento # 21: Championship Seven Card Stud $ 10.000
Lunedì 13 Giugno 12:00 Evento 3-Day
– Evento # 22: Omaha Pot-Limit $ 1,500
– Evento # 23: Otto Mix Game 2.500 dollari
Martedì 14 Giugno 12:00 Evento 3-Day
– Evento # 24: Hold'em No-Limit Shootout (2.000 Max) $ 5.000
– Evento # 25: Seven Card Stud Hi-Low-8 or Better 1.500 dollari
mercoledì 15 giugno
– Evento # 26: no-limit hold'em / Six Handed 2.500 dollari
– Evento # 27: Limit Hold'em Championship 10.000 $
Giovedì 16 Giugno 12:00 Evento 3-Day
– Evento # 28: No-Limit Hold'em $ 1.500
– Evento # 29: 10-Game Mix / Six Handed 2.500 dollari
Venerdì 17 Giugno 12:00 Evento 3-Day
– Evento # 30: Anziani Hold'em Championship No-Limit $ 1,000
– Evento # 31: Omaha Pot-Limit $ 3,000
Sabato 18 Giugno 12:00 Evento 3-Day
– Evento # 32: No-Limit Hold'em $ 1.500
– Evento # 33: Seven Card Stud Hi-Low Split-8 or Better Campionato 10.000 $
Domenica 19 Giugno 12:00 Evento 3-Day
– Evento # 34: No-Limit Hold'em $ 1.000
Lunedì 20 Giugno 12:00 Evento 3-Day
– Evento # 35: Pot-Limit Omaha / Six Handed 5.000 dollari
Martedì 21 Giugno 12:00 Evento 3-Day
– Evento # 36: No-Limit Hold'em $ 2.500
– Evento # 37: Campionato del $ 10.000 HORSE
Mercoledì 22 giugno 12:00 3-Day
– Evento # 38: No-Limit Hold'em $ 1.500
– Evento # 39: Pot-Limit Hold'em / Omaha 2.500 dollari
Giovedì 23 Giugno 12:00 Evento 3-Day
– Evento # 40: no-limit hold'em / Six Handed 5.000 dollari
venerdì 24 Giugno 12:00 Evento 3-Day
– Evento # 41: Limit Hold'em Shootout 1.500 dollari
Fri, 24 Giugno 05:00 Evento 3-Day
– Evento # 42: Pot-Limit Omaha Championship 10.000 $
Sabato 25 Giugno 12:00 Evento 3-Day
– Evento # 43: No-Limit Hold'em $ 1.500
– Evento # 44: Seven Card Razz $ 2.500
Domenica 26 Giugno 12:00 Evento 3-Day
– Evento # 45: No-Limit Hold'em $ 1.000
Lunedì 27 Giugno 12:00 Evento 3-Day
– Evento # 46: No-Limit Hold'em / Six Handed Campionato 10.000 $
– Evento # 47: Omaha / Seven Card Stud Hi-Low-8 or Better 2.500 dollari
Martedì 28 Giugno 12:00 Evento 3-Day
– Evento # 48: No-Limit Hold'em $ 1.500
– Evento # 49: 2-7 Triple Draw Lowball (Limit) $ 2.500
Mercoledì 29 giugno 17:00 3-Day
– Evento # 50: Triple Chance No-Limit Hold'em $ 5.000
Giovedì 30 Giugno 12:00 PM Event 3-Day
– Evento # 51: Pot-Limit Omaha Hi-low Split-8 or Better 1.500 dollari
– Evento # 52: Hold'em mista (Limit / No Limit) $ 2.500
Venerdì 1 luglio 12:00 3-Day
– Evento # 53: donna No-Limit Hold'em Championship 1.000 dollari
Sabato 2 luglio
– Evento # 54: No-Limit Hold'em $ 1.000
– Evento # 55: Il giocatore di poker Championship di 50.000 $
Martedì 5 luglio:
– Evento # 56: No-Limit Hold'em $ 1.500
– Evento # 57: Pot-Limit Omaha Hi-low Split-8 or Better 5.000 dollari
Giovedì 7 luglio 12:00 13-Day
– Evento # 58: No-Limit Hold'em Championship 10.000 $